Did you know you can use AI (artificial intelligence) to generate art you can sell? In this article, we'll go over how to use artificial intelligence to create children's coloring books that you can publish and sell on sites like Amazon using their free Kindle Direct Publishing platform.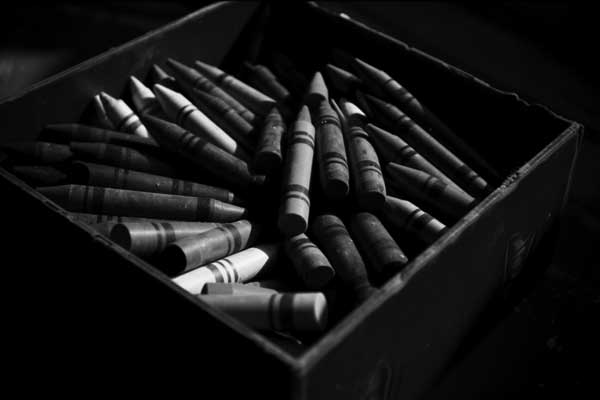 Not only is it fast and easy, but it's also fun and addictive! You will be amazed at how quickly you can have a book published. You only need access to Midjourney, an artificial intelligence graphics generation tool, and a good AI prompt to generate your art. While other image generators are available, I find MidJourney to offer the most consistent results for this purpose. We will be focusing on creating children's simple coloring books. All you need is excellent clean-line art to create these books.
How to Study Your Competitors on Amazon When Creating a Children's Coloring Book
Creating a children's coloring book is a fantastic way to unleash your creativity and help kids explore the wonderful world of colors. But how do you make your coloring book stand out among the thousands of other options on Amazon? The answer lies in studying your competitors, and with the help of artificial intelligence, you can easily do that. Here are recommended steps to get you started:
Use AI to Generate Coloring Book Pages
One of the most powerful tools at your disposal when creating a children's coloring book is artificial intelligence. AI can help you generate high-quality, unique, memorable coloring book pages. Midjourney AI is one such tool that can help you automate the creation process and save time. We will talk more about Midjourney and using prompts shortly.
Watch Tutorials and How-To Videos on YouTube
YouTube is an excellent source of information for creating coloring books for KDP (Kindle Direct Publishing). You can find step-by-step tutorials that show you how to create coloring books for KDP using AI, and other tools, like the low-content books, to help you create professional and beautiful books.
Check out Your Competitors' Coloring Books
Amazon is the go-to platform for selling coloring books online. You need to know what your competitors are doing and what makes their coloring books successful. To do this, search for similar coloring books on Amazon and analyze them. Look at the characters, stories, and art styles they use. See how many pages they have, their quality, and what types of coloring books are selling well. This will help you come up with unique ideas and give you an idea of what your audience wants. We will cover using AI to brainstorm product ideas a little later.
Analyze Your Competitors' Reviews
Reading your competitors' reviews can give you valuable insight into what customers like and dislike about their coloring books. Look for common themes in the reviews, such as issues with the art or storyline, or complaints about the quality of the paper. Use this feedback to improve your own coloring book and create a better product.
Publish and Sell Your Coloring Book on Amazon
Once you have created your coloring book using AI and analyzed your competitors, it's time to publish and sell it on Amazon. Amazon is a powerful platform that can help you reach a broad audience and earn a passive income. We will cover how to format your books for publishing in the Creating Your Coloring Book section below. With the power of AI, you can create unique and beautiful coloring books that stand out from the competition.
What Are AI prompts?
AI prompts are a sentence of words and special commands that describes what you want the AI to do. In the case of creating clean line art, we need a specialized prompt that has been fine-tuned for this purpose. It will be used to generate the art for your book. AI prompts can help create children's coloring books by providing an array of ideas, images, and artwork that can be used as a starting point.
You can spend hours perfecting a great prompt or buying one from a website specializing in prompts. We recommend ArtOnTheRun's prompts, and he has one that is perfect for this use case.
The simple line art prompt:
https://promptbase.com/prompt/kids-coloring-books-simple-line-art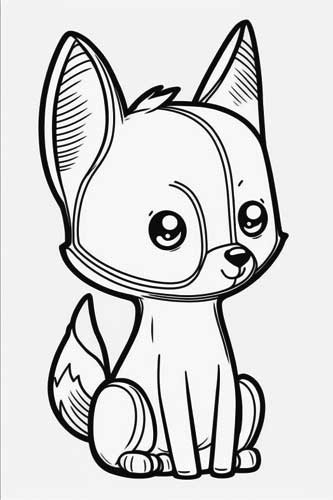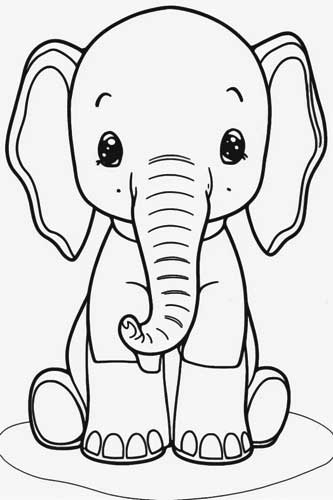 Once you have a prompt, it can be used endlessly. In this case, switch out the subject you want an image of and submit it to Midjourney, and it will present you with 4 random options to choose from. You can select none or all four or regenerate 4 more until you are happy with the image. I find myself generating many images for the creativity of it, it's very fun.
Midjourney Requirements
Midjourney uses a service named Discord to interact with; rumors have it they are working on a different user interface, but for now, Discord is how you will generate your images with Midjourney. Do not worry, it's easy to use.
Discord originally came out as a gaming chat client; it's grown well beyond that now. It's free to use and has a native application for Linux, Mac, and Windows and a web client. I prefer the application myself versus the web client, but that is entirely up to you.
You will "chat with" the Midjourney bot in Discord by sending it your prompt commands, and it will generate imagery based on your prompts. Simply download the generated images and use them in your books and other content you create.
Book Ideas
Look at the existing coloring book market for ideas. The coloring book business is huge, and you can borrow from numerous kid's coloring book themes. I recommend not going after copyrighted imagery like Disney, so avoid using famous characters in your prompt generation. We want to focus on things such as cute farm animals and zoo animals for example. The AI prompt will allow you to generate original-looking art.
A quick way to get ideas is to use AI. I used ChatGPT and gave it this prompt: I like to create a children's coloring book and I need ideas and inspiration. Give me a few topics on which I could create a children's coloring book.
It replied with the following :
Sure, here are some topics that you could consider for a children's coloring book:

Animals: This is always a popular choice for kids. You could create a coloring book featuring a variety of animals, including pets, farm animals, jungle animals, sea creatures, and more.
Fairy tales and storybook characters: You could create a coloring book based on classic fairy tales like Cinderella, Snow White, or Little Red Riding Hood.
Nature: A coloring book featuring nature scenes, such as forests, oceans, mountains, and gardens, could be both fun and educational for children.
Holidays: You could create a coloring book based on various holidays, such as Christmas, Easter, Halloween, or Valentine's Day.
Space: A coloring book featuring space-themed images like rockets, planets, and aliens could be a great choice for kids interested in science and space exploration.
Transportation: Kids love vehicles of all kinds, so a coloring book featuring cars, trucks, trains, and planes could be a hit.
Food: Kids love to eat, so a coloring book featuring different types of food like fruits, vegetables, desserts, and snacks could be both fun and educational.
Sports: A coloring book featuring different sports like basketball, soccer, and baseball could be great for sports-loving kids.

I hope these ideas help inspire you!
That saved me a bit of time trying to brainstorm, those are perfect topics to create coloring books on!
Creating Your Coloring Book
We will be using free Kindle Direct Publishing  https://kdp.amazon.com/   , so you will need either a way to create Word Documents or a PDF. Each has its advantages, PDFs are allowed to have images run into the BLEED ZONES ( where images can go to the edge of the page), but you will find Amazon's instructions and approval for OVER BLEED books frustrating because what should work often doesn't. If you use Word document format, just set the page size to 8.5x 11 and use narrow margins, such as .5 inch top, left, right, and bottom.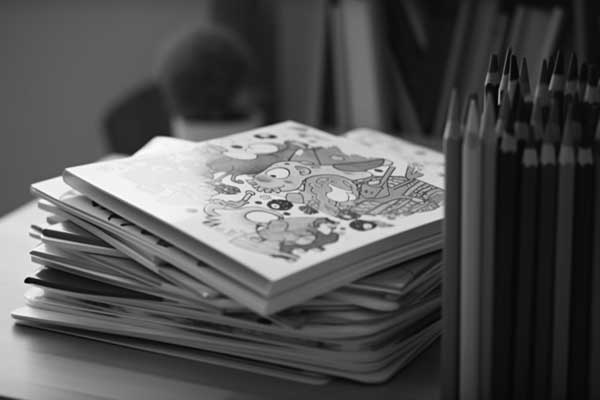 Paste 1 image per page, and you will want between 24 to 50 images. Most children's books have an average of 30 pages. Remember, these are physical paper books, so the more pages, the more it will cost to create. You do not have to pay to publish these books, but the cost is a factor when selling them. I would stay in the 24 to 30 aI-generated images range so you can price your books lower.
Also, I suggest creating an image for the book's cover as well, and you can use image generators for this as well, create it yourself using Canva, or other photo editing software or use a service such as Upwork or Fiverr to have one created very inexpensively.
Using ChatGPT or other AI Tech To Assist You
Once you finish your children's coloring book. You want a catchy title and description of it. You can use free AI chatbots such as ChatGPT, Bing Chat Bot, or Google Bard, to name a few to create your title and description for your book.
For example, in the chatbot, I might use the following for a children's coloring book full of jungle animals:
Write me a description for a children's coloring book name Jungle Fun Children's Coloring book, it has many animals that are commonly found in the jungle, and it is geared towards children up to 7 years old.
Here is what ChatGPT produced for me…
"Jungle Fun Children's Coloring Book is the perfect activity book for young animal lovers who want to explore the fascinating world of the jungle. This exciting coloring book is filled with various animals that are commonly found in the jungle, such as tigers, monkeys, parrots, and many more!

With 50 pages of engaging illustrations, children up to 7 years old will have plenty of opportunities to practice their coloring skills and get creative. Each page features a different jungle animal, accompanied by a fun and educational fact about that animal, which makes this coloring book both entertaining and informative.

The illustrations in Jungle Fun Children's Coloring Book are designed to be kid-friendly, with bold lines and simple shapes that are easy to color in. Plus, the book is printed on high-quality paper, making it easy to erase and correct any mistakes, so kids can enjoy their coloring experience without worrying about messing up.

Whether your child is just learning to color or is already a coloring expert, Jungle Fun Children's Coloring Book will provide hours of educational entertainment. It's the perfect way to introduce young children to the wonders of the jungle and the animals that call it home."
Edit the text how you wish, and then inside Amazon KDP, paste it as your description.  That saved me a lot of time brainstorming a catchy description.
Now that you are "Book Ready", you can create multiple books on different topics, farm animals, sea life, birds, snakes, and lizards; the sky is the limit you are now a children's coloring book author.  Ai can be used to create all kinds of awesome content for book publishing. The process has been made so fast and easy that anyone can publish art-based books.